If you're looking for a luxurious and stylish wayto make your son feel like the most special person in the world, this bracelet is a perfect choice.
💫Hidden within the stars are secrets of the Universe and even the obscure workings of Fate. The twelve celestial zodiac signs influence our lives, decisions, strengths, and weaknesses, therefore we must understand how to harness this knowledge to guide us throughout our journey on this earth. Each Obsidian Zodiac Lucky Bracelet corresponds to a particular celestial zodiac and also contains a colored stone that corresponds to the particular zodiac sign. Use this bracelet as a tool to tune in to the hidden strengths of your zodiac.
"With this beautiful piece on my wrist, I feel more connected to both the earth and my inner-self."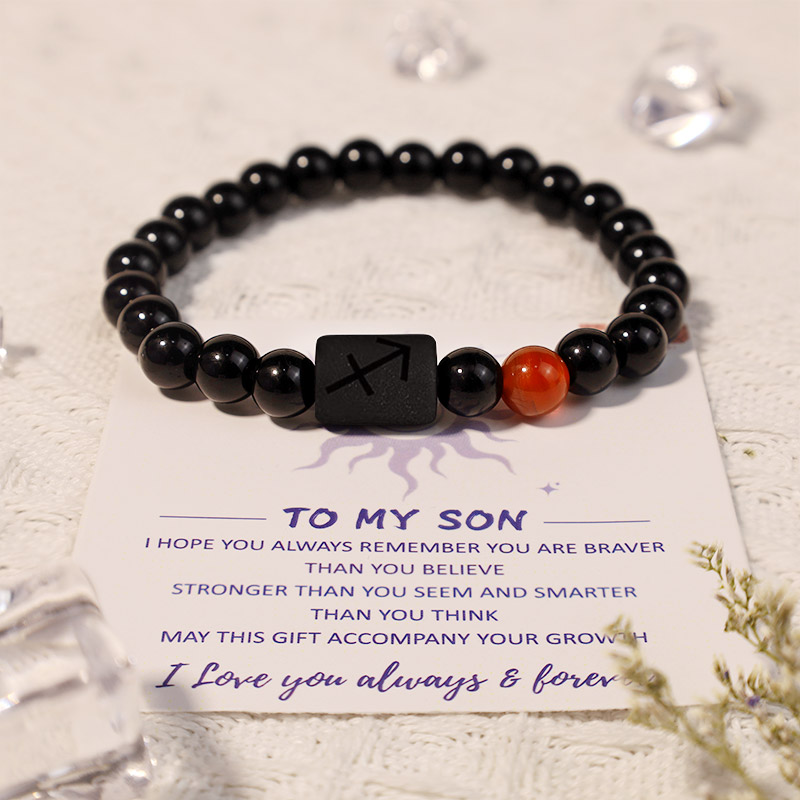 WHY BUY FROM US?
Let your son know you love him. Our Obsidian Zodiac Lucky Bracelet is the perfect way to express your everlasting love.


High-quality gemstones. At Olivenorma, all our jewelry is made by hand and one of a kind. Each stone has been carefully selected and we only offer gems with the best quality.


FREE message card included with every order and the option to include a premium box for a luxury gift experience.
BENEFITS OF WEARING CRYSTAL JEWELRY
Support Renewing Your Vitality: Crystals can help to clear away "energetic debris" and negative energy, and also balance your subtle energies, and positively affect your physical health and mental well-being in pretty phenomenal ways.
Balance Chakra: Healing crystal enhances your physical, emotional and mental health by affecting your chakras. Some "high vibrational" crystals also can open your awareness to higher levels of consciousness
Gorgeous Accessories: Every crystal and gemstone is a unique, beautiful and magical work of art by Nature. No matter what outfit you're wearing, there is a crystal that will add the perfect finishing touch, and they never go out of style.
It's meaningful: Jewelry made of different crystal materials can bring you different curative effects and surprises. If you are attracted to the color of a crystal, you are in desperate need of the healing and purification of this crystal.